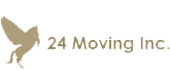 24 Moving, Inc.
Phone:

(818)237-6451



Address:
7381 Greenbush Ave North


Hollywood

, California
91606
Web Site
Offered services of 24 Moving, Inc. include:
1) local moving
2) long distance and national moving
3) international moving
- residential moving
- commercial moving
- safes, pianos, fine art and antiques moving
- grandfather clocks, appliances, light fixtures and chandeliers moving
4) vehicles of any type moving
- cars and mini-vans
- SUV's and pick-ups
- full-size vans, station wagons, trucks
- motorcycles
- door-to-door service
5) boxes and packing materials delivery
6) packing and unpacking services
7) crating and uncrating
8) short and long term storage facilities


Customer's Reviews:
Teresa
I think it fails to mention how long it all takes based on the country. In Sweden, it took four days after express delivery dates, numerous phone calls and complaints before I get my package. And, I tried to give them the benefit of the doubt, so the next shipment went ups, but they did it again! And again!!!!! International shipping to Sweden? The United States postal service is the way to go! Don't waste your money, your energy, your happiness, on UPS, it's not worth it.