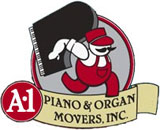 A-1 Piano and Organ Movers, Inc.
Phone:

(877)216-6837



Address:

Cincinnati

, Ohio
45249
Web Site
A1 Piano & Organ Movers Inc. professionals provide the following services:
- local piano moving
- long distance piano moving
- piano wrapping service
- piano loading and unloading services
- piano disassembly and reassembly services
Customer's Reviews:
There are no reviews. Be the first to review this company.