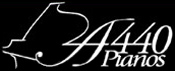 A440 Pianos, Inc.
Phone:

(770)717-8047


Fax:

(770)921-1391



Address:
855 Garner Road


Litlburn

, Georgia
30047
Web Site
Among services of A440 Pianos, Inc. there should be mentioned the following:
- local piano moving
- long distance piano moving
- national piano moving
- piano lifting
- piano wrapping and packing
- piano loading and unloading
- moving of pianos of any type and size
Customer's Reviews:
There are no reviews. Be the first to review this company.