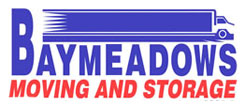 Baymeadows Moving & Storage
Phone:

904-737-3530


Fax:

904-737-3580



Address:
6419 Philips Highway


Jacksonville

, Florida
32216
Web Site
The company offers following services:
- residential moving
- office and industrial relocations
- warehouse moving: inventory, racks and bins are packed and moved so that employees can resume order processing the minute the move is completed
- secure, climate controlled facility for short term, long term storage or items which require special care. The company have over 36,000 square feet of warehouse space.
Customer's Reviews:
There are no reviews. Be the first to review this company.