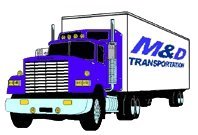 M&D Transportation, Inc
Phone:

(401) 946-4676


Fax:

(401) 946-4678



Web Site
M&D Transportation currently operates in the folloeing modes:
- Intermodal, servicing all piers, rail-yards and airlines in MA and RI on a domestic and import/export basis.
- Local Truckload Service, serving all points from CT to NH.
- Intermediate Long Haul, serving the northeast corridor to VA, NC, SC, OH and IN.
- Dedicated JIT, to handle raw materials and finished products for plant production and customer distribution.
Customer's Reviews:
There are no reviews. Be the first to review this company.