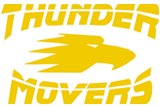 Thunder Movers LLC
Phone:

(503) 253-5798



Address:
9330 NE Halsey St.


Portland

, Oregon
97220-4579
Web Site
Thunder Movers LLC is committed to offering the following services:
- local or long distance moving;
- residential moving;
- commercial moving;
- office moves;
- antiques moving;
- specialty items moving (lamps, televisions, electronics, etc.);
- professional loading items onto truck;
- pod loading;
- container loading;
- unloading truck, pod, and containers;
- temperature controlled storage;
- vaulted storage;
- piano storage:
- motorcycle and other single item storage available;
- delivery from department stores;
- sales of packing supplies: boxes of all sizes, paper, bubble wrap and packing peanuts, tape, shrink-wrap, box knives, marking pens, crates.
Customer's Reviews:
There are no reviews. Be the first to review this company.